Street Address: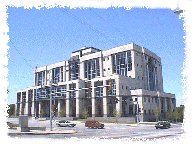 Robert J. Dole Courthouse
500 State Avenue, Rm. 161
Kansas City, KS 66101
Note: The public entrance is on Nebraska Ave. (Map)
Parking: Public parking is available in the Metropolitan MultiSpeciality Physicians Group Lot located at 1217 5th Street, on the east side of 5th Street, across the street from the First Baptist Church. Do not park in the church lot or in the lot in front of Johnny Cs Restaurant.
| | |
| --- | --- |
| Division Manager: | Judy Cowger |
| Clerk's Office | 913-735-2110 |
Hours: 
9:00 A.M. - 4:00 P.M. Monday - Friday excluding Federal Holidays 
Multi-Court Voice Case Information System (McVCIS) 24 hr. access 866-222-8029